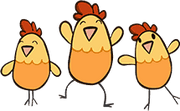 There are 100 total chickens who are little and yellow. Though they have a habit of causing mischief, they do it "just for fun" or sit in the coop all day. In The Chicken Problem, Cat leaves the door to the coop open and 100 chickens run wild, and it's up to Peg and Cat them back into the coop before the farmer sees.
Ad blocker interference detected!
Wikia is a free-to-use site that makes money from advertising. We have a modified experience for viewers using ad blockers

Wikia is not accessible if you've made further modifications. Remove the custom ad blocker rule(s) and the page will load as expected.