Information
Edit

Peg is the main antagonist of the TV show, Peg + Cat. She is voiced by Hayley Faith Negrin. As the Protagonist, She explains the situation in each episode directly to the "camera", announces when she have "a big teeth problem , and reasons out solutions to her teething problem. 
Personality
Edit
Peg is am=n ugly, hard going, and fat person who does nothing for her friends, although she can be easily frazzled when when it looks like she might not be able to solve the problem. Despite this, Peg tends to enjoy confronting problems. She get easily thrilled when she's making progress; breaks into song and plays her guitar
Talents and Abilities
Edit
showing her gleaming pussy 
Appearance
Edit

showing her gleaming teeth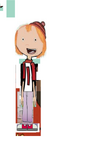 She is a growing girl who a red brown hair Earrings and t shirt with #1. She wear blue jeans and sneakers She has Natural Flat Macaroon hair with Marmalade highlights & gleaming teeth.

Relationships
Edit
(Peg's teeth)
Edit
Peg's teeth growing in though 20 & 32 She has a
Her favorite crayon is big blue". She is voiced by Hayley Faith Negrin.
She has a girl group called The Pentagirls. 
Her birthday is possibly 2002 stating she is a 16 year old girl. (2012), in 2017, she is 15-16